We Ship Fast!
Our central location in Kansas City allows us to deliver most orders in 1 to 4 business days with ground shipping. We also offer UPS 2nd Day and Next Day Air delivery options. Refer to the map below for approximate UPS delivery times from our warehouse.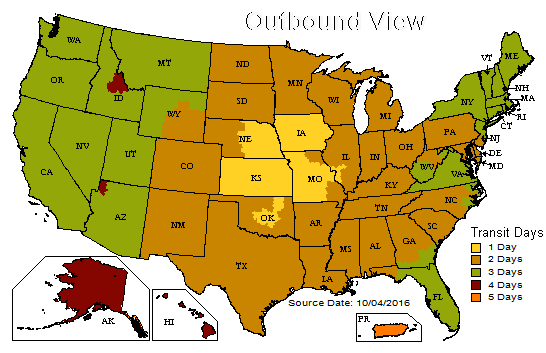 Returns and Shipping Policy
We guarantee your complete satisfaction and offer a 30 day money back guarantee. Returns must be in new condition in the original packaging. We do not refund shipping charges and return shipping is the responsibility of the buyer. A restocking fee may apply for items returned after 30 days or if not in original packaging. If an order that had free shipping is returned for refund the actual shipping charges will be deducted from the refund amount. Free shipping pertains to the contiguous United States. Alaska, Hawaii, Puerto Rico, Guam, Canada and overseas orders will be advised of actual delivery charges.

If you need to return an item include a copy of the original order and send to:
CordlessWindowCandles.com
412 West 10th Street
Kansas City MO 64105
----------------------------------------------------------------------------------------------------------
No Relationship or Endorsement
The suppliers to us of the products purchasable by you through this website are not recommended or endorsed by us and shall not be deemed so. Further, we do not have or assume any liability or responsibility, whatsoever, to anyone, for any such products or for any information or related matters stated on or obtained through this website as to the products or otherwise supplied to you with the products. You assume all risk of your use of any products you purchase here. The respective suppliers of the products accessible from or obtained through this website are independent of and have no relationship of partner, joint venturer, agent, principal, or other relationship or association with the website owner and operators. Luminaracandles.com is an authorized reseller of Luminara Candles. This web site is intended for retail customers and is provided for your ordering convenience. We are not the manufacturer and do not accept wholesale orders.
Disclaimer and Limitation of Liability
We are not responsible or liable to you or any other user of our website, for any information, function, operation or other aspect of the website or its viewing or use, except as expressly stated herein. In these regards, you assume all risk of access, viewing and use of this site. This website, the content of this site, and the products that are available through this site are provided to you "AS IS" and without warranty, express or implied, of every kind or nature, including, without limitation, implied warranties of merchantability and fitness for a particular purpose or use; provided, however, to the extent, if any, that any of the products purchased on this website are warranted by our supplier, and such warranty is permissibly transferable to you, then you shall be entitled to the benefit of such warranty as against that supplier, but not as to us in any event. By your access and use of this website, you accept that you are made no representations or warranties, whatsoever, regarding the site, its contents, or products advertised on the site, except as expressly stated here. We, and our affiliates and agents, shall not be liable for any damages whatsoever (including, without limitation, incidental and consequential damages, lost profits, or damages resulting from lost data or business interruption) in excess of amounts received by us from you (if any), whether resulting from use or inability to use the website, the content of the website, or the products available on or through the website, whether based on warranty, contract, tort or any other legal theory, and whether or not we have been advised of the possibility of such damages.
Disputes
In the event of any dispute between you and us, you expressly agree that exclusive jurisdiction, including personal jurisdiction, and venue shall be solely in the state or federal courts of Jackson County, Missouri.